Cosmology and String Theory

by Horaţiu Năstase
Springer, 2019, 462 pages
reviewed by T. Nelson
For decades physicists have been nagging us, trying to convince us that space and time originated at the Big Bang. The universe, they say, started in a quantum singularity that popped up out of nowhere in a random quantum fluctuation and it is naive and foolish to ask what happened beforehand.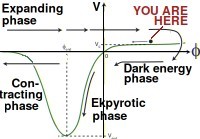 Cyclic universe model. We are on the Dark Energy side of the ener­gy diagram (redrawn from [1]). A similar diagram is in the book
Well no. Forget what we said! Maybe the uni­verse undergoes cyclic cont­rac­tions and expan­sions, as in the cyclic universe model, which describes it in a 4D field theory by a potential V(𝜙), where 𝜙 is a scalar field. (A field is a property that exists in every point of a region. A scalar field is a field in which the property does not have a preferred direction. Temperature is a scalar field and wind velocity is a vector field.)
As time goes on, V reaches a steady value (which we perceive as a cosmolog­ical constant) and then slowly decreases. When 𝜙 hits zero and goes minus, the universe goes through a sudden contrac­ting phase (called an ekpyrotic phase) leading to a Big Bang and an expansion, and V(𝜙) becomes positive again. The entropy of the universe continuously increases from one cycle to the next, but so does the volume, so each cycle appears the same as the previous one. Penrose has a popular book that describes this, sort of, in a non-mathematical way.
Well, if you don't like that theory, we have a better one! String theory tells us that 𝜙 is the distance between two colossal five-dimensional things called branes moving in a six-dimensional space. When they collide we get a tremendous release of energy. One way to think of it is two giant bubbles passing through each other with the universe being the points on the surface where the bubbles touch. To match observations, the two branes have to hit at an angle and one has to be an anti-brane. Or instead of colliding maybe the brane moves in a bulk medium and merely generates the illusion of cosmic inflation. This is called "mirage cosmology." Mathematically, these two scenarios are identical. In either case, the universe is vastly larger than we imagine and it may last forever.
In this book, Năstase describes supersymmetric (susy) string theory, which he says is the most popular version. String theory is one of the most difficult and ambitious theories ever invented. Not only does it try to explain spacetime but also particle physics and, as this book shows, the origin of the universe. It is also one of the most speculative theories ever devised, as none of the particles it predicts (such as the gravitino, gluino, and dilatino) has ever been observed. It is also, as you might suppose, highly mathematical and abstract.
The format of this book is typical: Part I is a good summary of standard thinking about ordinary everyday cosmology including the Big Bang, nucleo­synthesis, slow roll inflation, inflaton fields, λCDM (cosmological constant + cold dark matter) and variations in the cosmic microwave background and what they might mean. In this section the author is on familiar ground and his math is clear and easy to follow if you have some understanding of cosmology and relativity.
In Part II (Elements of String Theory) the reader must be comfortable with general relativity and gauge theory to avoid being overwhelmed. There's no hand-holding here: the author assumes the reader is already somewhat familiar with the equations in string theory. If not, I recommend reading Zwiebach's A First Course in String Theory first. There are a lot of equations on every page, but the chapters are short with helpful lists of important concepts to remember at the end. The author is a proponent of supersymmetric supergravity and talks about N=1 supergravity in 4 dimensions, Kaluza-Klein compactification of supergravity models, strings, D-branes, AdS/CFT (see review at right), and holography.
Part III is string cosmology. There are numerous competing models, including ekpyrotic, new ekpyrotic, and cyclic models, string gas models, and brane gas models. There are also attempts to explain cold dark matter and a new theory called "fuzzy dark matter" which postulates particles called axions, which, if they exist, are thought to be very small. If they were between 10−3 and 10−6 eV they could explain dark matter. In fuzzy dark matter theory, axions are not just small but ridiculously small, about 10−22 eV/c2. (This unit of mass is often written just as eV; compare this to the mass of an electron, which has a rest mass of 0.5109989 MeV, or 5×1026 times greater). This would give them a de Broglie wavelength of 1 kpc (3,261 light years), which is very big, and would make them very fuzzy indeed.
1. Lehners JL, Ekpyrotic and cyclic cosmology. arXiv:0806.1245v2 [astro-ph] 2 Jun 2009
dec 05, 2020