Discrete Causal Theory:
Emergent Spacetime and the Causal Metric Hypothesis
Benjamin F. Dribus
Springer, 2017, 558 pages

t's not every day when an author tells you not to read his whole book. But Benjamin Dribus is not an ordinary physicist, and for readers of this 500-page book on causal set theory it's good advice. In fact, it's not necessary: your instinct for self-preservation will ensure it.
The Causal Metric Hypothesis, or CMH, is a competitor to loop quantum gravity, so the reader will naturally be asking what it brings to the party. The answer, Dribus says [p.30], is not much yet. The advantage of visualizing spacetime as a network of causal nodes (note: not once does he ever call it a causal nexus) is that it's easier to see particles as disturbances on those nodes than on a continuum model, because the continuum requires additional phenomena such as fields for the particles to exist on.
The big cheese in this field is Rafael Sorkin. The original idea came from Hawking and Malament. And it's a clever one. There are no compactified extra dimensions and no wonky four-dimensional triangles. Just nodes connected by lines that represent potential cause-and-effect relationships.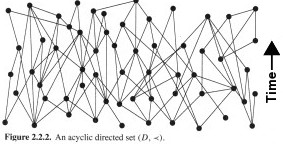 This picture is very important because it appears about 20 times in the book. It represents causal connections that make up the structure of spacetime. Events can only go in one direction (up). But it is not, repeat
not
a causal nexus.
The causal metric hypothesis is also very simple: The properties of the physical universe are manifestations of causal structure. In other words, the CMH says that information about cause and effect describes everything there is to know about relativistic spacetime geometry, except for a conformal factor, i.e. scale [p.91].
Dribus says this enables perfect background independence by eliminating any tension between matter and spacetime. But what exactly is a "causal structure"? He defines it as "the aggregate of actual causes and effects." Well, you asked.
To clarify what he means, Dribus considers a Cauchy surface. A Cauchy surface is a subset of a relativistic spacetime in which every inextensible causal curve intersects the subset exactly once. This means these causal nexuses . . . er, nodes . . . are really representations of time: events in space can go in either direction, but events in time can't. This makes sense, because it's impossible for one object to affect another at the same instant; it can only do so at a future time.
He also spends a lot of time discussing closed timelike curves, which would create paradoxes. They are impossible in the causal metric hypothesis.
Actually he spends a lot of time on many of these topics—the book is quite repetitive and could have been shortened quite a bit without losing much. And maybe then we could have gotten more discussion to convince us about what these nodes are in physical terms, since even after 500 pages they're never really sensibly defined. There's a tremendous amount of work to be done to make this theory palatable. But it's fascinating stuff, and it could become a major competitor to loop quantum gravity.
There are few equations, but don't kid yourself: this book is still rather complicated. I always say ideas start out simple, then they get more and more complex until they're understood, at which point they become simple again. Causal metric theory is just entering the complicated stage. Better learn it now before Rafael Sorkin's book comes out.
jul 29, 2017