alse beliefs not only lead to bad policy; they put ideologies that embrace them on a course of self-destruction: a belief system based on a falsehood is guaranteed to crumble the minute it comes close to achieving its goal.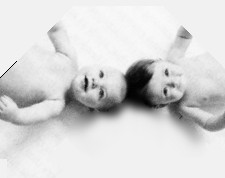 These males are engaging in a highly aggressive form of intrasexual competition known as head-butting. These are often battles to the death; the victor gains increased access to females, but risks breaking an antler. From
Evolutionary Psychology, 6th ed.
by David M. Buss.
Note: not 100% sure this is the correct picture
Science has little to say about ideology. Science and ideology are diametric opposites and have no points of intersection. But ideologies depend on half-truths and falsehoods to survive, and increasingly science has quite a lot to say about those.
Now, it may be unfair to criticize feminism now that many of its greatest achievements, notably its fight to legitimize women's sports, are crumbling under their feet. Feminism has had some positive accomplishments. But like other ideologies, many of its ideas were based on popular myths—in this case, about how men and women behave. Anthropologists studying sexual selection have found that many of those myths are false.
Over the past twenty years, anthropology has joined forces with social psychology and mathematical genetics to create the new field of evolutionary psychology. Researchers have quietly been collecting empirical data to help understand why men and women behave as they do. They've discovered that many widely held beliefs are factually incorrect.
Myth #1: Men prefer younger women because they're easier to control.
Fact: Research shows that, in fact, men prefer women who are closest to the peak age of fertility. Teenage males actually prefer women several years older than themselves, despite the fact that the older females have little interest in them (despite the many lurid stories in the press) and would be very hard for them to handle.

The strict time window provided by biology makes life harder for women approaching the age when they can no longer have children. They may complain that they feel like 'plankton', but the reason is that sexual attraction has a very specific biological purpose. It's not a cultural construct and it's not sexism. Males are genetically programmed to search for signs of fertility.
Myth #2: Men prefer unnaturally thin women.
Fact: It has been shown repeatedly that the most important physical feature that men look for is waist to hip ratio (WHR). The desirability of thinness varies in different societies depending on food availability, but a WHR of 0.7 is preferred in nearly every culture and throughout history. This ratio is a sign of the woman's ability to bear children. Other cues, such as facial symmetry and hair quality, are desirable because they serve as signals of health. It is unclear why adver­tisers use ultra-thin women. Perhaps it's a way of reducing their sex appeal, not increasing it.
Myth #3: Women are identical to men in their attitude toward sex.
Fact: Studies have shown that women are attracted to men primarily on the basis of their health and their social and economic status, meaning they prefer males a few years older. Men are attracted to women primarily on the basis of their physical attractiveness, which signals their ability to produce children. Does this mean that women who claim their primary trait is 'kindness' are lying? No. What they actually mean is that height, social status, and wealth are assumed to be present, while kindness is an option; more is better, but it's far from number one. It's equivalent to a man saying he prefers blondes: he's taking physical attractiveness as such an obvious requirement that he forgets to mention it.

Throughout evolutionary history, the optimal female strategy was to avoid mating promiscuously because, unlike men, women can only reproduce a small number of times during their lifetime. There is strong evidence that even today women prefer to adopt the same strategy, which means it's likely to be an inherited trait rather than a cultural preference.
Myth #4: Women prefer men who do housework.
Fact: A study by Peggy La Cerra tested 240 women with photos of men standing alone, interacting with a baby, or vacuuming. The women strongly preferred the man interacting with the baby and strongly disliked the man vacuuming a rug. The conclusion is that women are programmed to seek a partner who will provide and protect the future children. This is also the reason they strongly prefer taller and stronger men with high social status. And they hate wimps.
Myth #5: Male and female brains are identical.
Fact: Countless studies using fMRI and psychometric testing have demonstrated that male brains are superior at three-dimensional tasks such as image rotation, while female brains are superior at remembering landmarks. These traits are important in hunter-gatherer societies in which humans evolved, where the male hunts and the female gathers fruits and vegetables. The differences are actually larger in societies with more sex equality, indicating that they are not cultural in origin, but genetic.
Myth #6: Male aggressiveness is a sign of toxic masculinity.
Fact: Anthropologists point out that females can always be certain that they are the parent of their own baby. Males have no such assurance of paternity, and so they must challenge rivals and make certain that the wife is not unfaithful. Those males who did not—who were not aggressive enough—left no offspring and their traits were removed from the gene pool. In almost all mammalian species, the male is larger, stronger, and more aggressive than the female.
Evolutionary psychology is still in its infancy. It is still not known, for the most part, how these pre-programmed behavioral traits are encoded in our DNA, but what is clear is that they are not cultural in origin. So far, the field has relied on empirical measurements and psychological testing. Despite the limitations of these techniques, it is clear that many common myths aren't holding up.
This doesn't even touch the statistical errors and half-truths—things that are true for both men and women, but described as if only women suffer from them—found in some feminist writing. Phyllis Chesler's interesting 2018 book A Politically Incorrect Feminist (reviewed here) contains many examples of these.
Hopefully it's not necessary to reiterate that culture plays a role as well. There is nothing in evolutionary psychology that implies genetic determinism. But by basing its conclusions on empirical research instead of ideology, it undermines the old idea that all behavior is culturally constructed.
Of course, there will be some who refuse to accept that genes influence behavior. Even now they are trying to smear evolutionary psychology as "dangerous," claiming it promotes a fatalistic view that "calls into question free will itself." This is an unscientific viewpoint. If it is true that aspects of our behavior are influenced by our genes, we need to know about it, not deny it out of fear.
As the saying goes, the truth will set you free. It follows that believing a falsehood will do little to release you from your chains. It doesn't matter whether you're left or right, if you want to convince people, your ideology needs to be based on empirically verifiable facts.
The puzzle of homosexuality
Some evolutionary psychologists profess bafflement over the existence of homosexuality, which should be strongly selected against by evolution. Several theories have been proposed, but none is fully accepted. Popular explanations like hormone deficiencies in utero are unsatisfactory.
But if the evolutionary psychologists are right, the existence of homosexuality is easy to explain in terms of the decreasing availability of higher-status mates due to the increasing wealth of women. Unfortunately, in today's repressive environment, it is not safe to discuss such topics. Research into this phenomenon, in the event that anyone was interested in it, will have to wait until science regains its academic freedom.
---
Many of these examples have been drawn from the 6th edition of Evolutionary Psychology: The New Science of the Mind by David M Buss, which contains citations to peer-reviewed studies whose results are mentioned above. The literature is extensive, and far too vast to put into a blog post. Buss's book is a highly readable textbook. It's totally apolitical, fact-based, and highly recommended. If this book had been available earlier, we could have been spared a half century of chaos produced by misinformation about sex.
---
feb 16 2020, 8:31 am. last edited feb 20 2020 5:24 pm
---
Thumbnail on index page adapted from photograph by Brian Stansberry; cropped, resized, and colors altered. (CC BY-SA 3.0)