Alien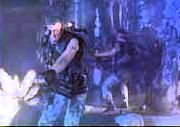 cid for blood - could be a silicon-based life form. Boron and phosphorus also form polymers with oxygen. Strong acid might very well be advantageous to such a creature. But why would a silicon-based life form want to incubate inside a carbon-based creature? First of all, the creature's blood, and any other secretions, would dissolve the host. Carbon-based life contains little silicon, and would have little or no nutrient value. And there are constant risks from crazy carbon-based ladies with flame throwers.

According to the first Alien movie, the creature has an outer layer of protein polysaccharides with a coating of crystalline silicon. If so, it would probably have a coating of silicon on the inside as well, to prevent its acidic blood from dissolving the protein.

Even in humans, there are some types of protein that cannot be dissolved by acid. A perfect example is the protein in the plaques found in the brains of people with a certain neurodegenerative disease. These proteins cannot even be dissolved by trifluoroacetic acid, a powerful acid commonly used to dissolve protein for experimentation. Moreover, some carbon-based animals, like ants, produce and secrete strong acid. Many species of ants spray their victims with formic acid, as a sort of preliminary meat tenderizing step. The bombardier beetle squirts a boiling hot mixture of hydrogen peroxide and hydroquinone. Although these aren't acids, they have a similar effect on their victims. But even if the creature in Alien were based on carbon, the chances of it being able to digest human protein are minimal. For one thing, the amino acids would likely all be different. For animals, even a change of an amino acid into its mirror image (e.g. from L-alanine to D-alanine) completely changes its biological function, often changing it from a nutrient into a deadly poison. Alien creatures, who evolved in a biosphere with a different complement of amino acids, would get sick and die if they ate us. And it would serve them right. Come to think of it, maybe that's why the creature in Alien acts so unfriendly.

The same thing with viruses from outer space. Viruses on Earth evolved alongside their hosts, becoming more effective over time by gradually mutating using the process of evolution. A virus in space, even if its DNA structure were somehow compatible with ours, would have a zero chance of infecting a human because it never had the opportunity to coexist with one.